Three more employees were honored by Liberty Central School District during the Tuesday, May 23, Board of Education meeting.
Earning the Excellence in Service Awards were Amy Raymond, an LPN/pre-K coordinator who is filling in for the nurse at the elementary school; middle school social worker Lynne Diener and technical data specialist Teresa Couitt. All three were nominated by multiple people.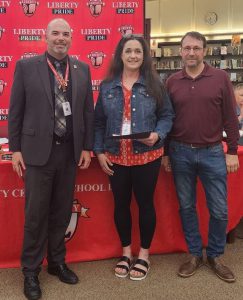 Raymond's hard work and dedication to her job, always with a smile on her face, were cited by several staff members in their nominations. Among their comments:
"Amy has been working non-stop in the nurse's office all by herself, but continues to have a smile and never complain about the circumstances," read one nomination.
"She takes care of all of our students, and her responsibilities and has been exceptional with being a team player managing multiple duties," read another.
"She is a valued asset of LES, and makes a difference everyday for our students," another nomination read.
"Amy comes to work with a smile on her face every day… she treats our kids with kindness and compassion. Amy is a very deserving candidate for this award as she goes above and beyond the call of duty each day."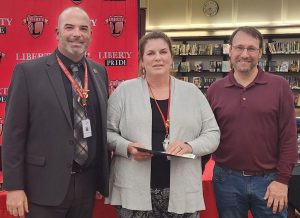 Of Diener, who works at the middle school, nominators wrote:
"Lynne has been one of the most valuable members of the Liberty Middle School community ever since she transferred to our building. Her genuine care for both students and colleagues is unmatched. Every time I interact with her she always conducts herself in a professional manner. Lynne works endlessly to make sure students get the help they need."
"She is constantly doing what is best for students. She goes above and beyond so often that the concept has become her norm."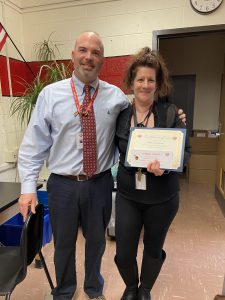 Couitt's passion for and knowledge of her job, as well as her dedication to the district and co-workers, were mentioned by those who nominated her for the award:
"Teresa is extremely hard working and is so passionate about SchoolTool! She is an amazing human and cares so much about her work and about everyone around her. Teresa goes above and beyond and deserves this award!"
"She is always willing to help out in any way she can even if it's outside of her role. She is a bright spirited person that has a way of finding a resolution to any issue that comes about. Her knowledge of how things need to operate in the office, in SchoolTool and in many facets of the school operation itself makes her an exemplary employee and an asset to the district."
"She is not only the SchoolTool guru, she is also kind, professional and cares about Liberty Central School District. I don't know what I would have done without her help and understanding."
Each month, staff members nominate others they believe are going above and beyond, be it a single act of excellence or kindness or a continuous work ethic.
We congratulate these employees on their awards.
Post navigation