A junior at Liberty High School is looking to do big things in Texas this summer.
Jayla Edwards, who plans to be an aerospace engineer, was selected for the Student Enhancement in Earth and Space science summer internship.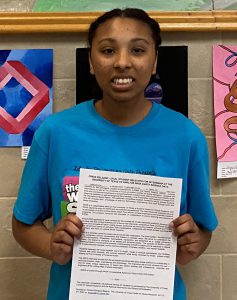 Only 95 of the nearly 2,000 applicants from across the nation were selected for the competitive program, which will run July 8-22 at the University of Texas at Austin's Center for Space Research.
SEES is a collaborative effort of UT/CSR and NASA. The internships are organized around an aerospace or space science theme drawn from NASA's diverse engineering and scientific research programs. The program combines the strengths of collaborators to enrich teaching and learning of STEM.
"The NASA SEES internship stood out to me because it allows high school students to work on issues prominent in actual NASA missions and gain valuable experience and knowledge that will be useful in college and in a career," Edwards said.
The program pays for housing at the University of Texas for onsite teams, all meals, local transportation and has travel scholarships for those who can not afford the flight to Texas, Edwards said.
"We are all proud of Jayla's accomplishment," LHS Principal Derek Adams said. "We encourage our students to explore all options to further their knowledge, and this internship is a perfect example of that."
Students will work with scientists and engineers to conduct authentic research from data received from NASA's Earth-observing satellites as well as designing Mars habitats, lunar exploration and analysis of images from the International Space Station.
Students work remotely with their project scientist before the on-site internship, complete an Earth and Space Science course, and complete a Python coding course. During the two weeks the students will work at UT/CSR, they will conduct hands-on activities, field investigations, collaborate with NASA-funded scientists and engineers, and work on various NASA missions.
"I hope the program will provide me with the opportunity to gain the skills I will need in the future and give me a chance to see what kinds of things I will be doing in the future," Edwards said. As part of the Mars Rover Resource Utilization Team, "I am very excited to be working on a project that is so similar to NASA missions that I desire to be a part of."
It won't be all work. The student will also listen to talks from scientists and engineers, visit the NASA Johnson Space Center, and go to an escape room, Edwards said.
"Our mission at Liberty is 'to empower each student to contribute and thrive in a diverse community by pursuing their potential,'" LCSD Superintendent Dr. Patrick Sullivan said. "With this internship, Jayla embodies our mission and our Liberty Pride."
At Liberty Middle School, students in fifth and sixth grades are partners in learning with students from across the globe, thanks to Level Up Village.
The mission of Level Up Village is to "globalize the classroom by facilitating cultural collaboration between students from around the world."
To do that, each class is divided up into groups of about four students. Level Up Village provides a basic lesson outline and an online platform where the interactions take place. Each course is divided into tasks, with each 10-week course consisting of five tasks. Each group is given question prompts, which they use to write a response and record a video of themselves discussing the prompts. Videos, of no more than two minutes per group, are posted weekly on the platform. The groups will then watch the videos from the partner groups in the other country, after which the students create a response to their partners' video and they do the same.
Liberty began using Level Up Village last year.
It is offered as an enrichment activity within the High Achiever MTSS pillar of the LCSD strategic plan. "It works perfectly for fifth and sixth grade MTSS enrichment groups," LMS School Media Specialist Jill Parks said.
The first course, taught by Parks, was STEM-based. Sixth grade students worked with a class in Zimbabwe, where each group researched current public health issues in their area.
Sixth grade ELA teacher Samantha Abplanalp led a course on education, leadership and community service using the book "I am Malala" and working with a group of students in Columbia.
Earlier this year, Parks worked with a group of fifth grade students on a course called "Kenya and New York: Connecting with Communities Around the World," which focused on environmental concerns.
Most recently, Parks has been working with fifth graders focusing on human rights using the book "Esperanza Rising." In this course, students are working with a group in Kyiv, Ukraine.
Students said they have learned a lot about other cultures and how other people live by taking part in the Level Up Village courses.
"I have learned that my life is easier than many others," fifth-grader Brycen Smith said. It taught Hayden Smith, "to appreciate what I have."
They found out there are similarities between the groups of students, too. "Students in Ukraine like the same sports as we do," Antoni Klys said. And "they have the same holidays as us," Zalaina Nash added.
The course also gave students a chance to read a book they may not otherwise have been exposed to, Claire Ferguson said.
Many students also enjoyed the technological aspects of the projects, with many students citing the video-making as their favorite part.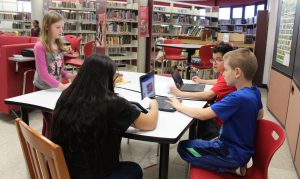 Not only did they gain an understanding about other cultures and technology, the students also learned cooperation and collaboration by working in groups, they said.
Participants in the latest project also recognized how current events were impacting the students halfway around the world.
"(In Ukraine), they have lots of students that left," Lilly Kehrley said.
"They still have hope and made videos for us even though they were in a tough condition with the war between them and Russia," Meily Valencia added.
Learning directly from students in other countries helped change some LMS students' thinking, they said. "These programs made me think differently because I know more about people around the world and how our decisions could affect them," Aiden Herandez Mejia said.
"This program is very student-centered. They take ownership of their work," Parks said. "They like learning about other cultures straight from global peers their own age."
Students will continue to have a chance for that global interaction, Parks said.
"I have already agreed to do at least two more courses next year," she said. "My goal is to incorporate more technology on our end with programs like WeVideo, and Canva, so our students can create even better video presentations."
We're halfway through our stories highlighting each pillar in our strategic plan. In this article, we'll be looking at the curriculum.
The first thing that comes to mind when "school" is mentioned, is what children are going to learn and why. Curriculum is what we teach. Ensuring our curriculum is aligned with state and federal standards as well as providing students with what is needed for success in today's and tomorrow's world is a priority in Liberty Central School District.
The first strategic intent under our curriculum pillar is: "By June 2027, 100% of PreK-12 curriculum will be vertically and horizontally aligned to meet all New York State standards for all content areas as evidenced by improved student outcomes (in all subgroups) on NYS and local assessments and an increased graduation rate."
The second is: "By June 2027, 100% of the administrators and teachers will use identified data protocols to analyze content area assessment results, identify student gaps and strengths in order to grow students (in all subgroups) to a new level of performance."
What do these intents mean?
These mean that our curriculum, across all subjects and grade levels, will be designed to meet state and federal learning standards with a goal of improving student achievement on assessments and overall graduation rates. We will also be able to analyze results and use that date to see where students' gaps and strengths are and adjust lessons accordingly.
Why is this important?
What we teach is the center of what we do. Having consistent curriculum and grading systems across grade levels and as a student progresses throughout school gives our learners a chance to build upon each lesson without falling behind. Aligning these lessons with New York State Next Generation Standards ensures we are setting the playing field at the same level for our students.
How are we doing this?
We are reviewing our curriculum and are working to design a guaranteed and viable curriculum at all grade levels. To provide a consistent curriculum, we have begun implementing the HMH ELA "Into Reading" and "Into Literature" program for grades K-8 as well as. HMH "Into Math" curriculum and  Science 21 programs in kindergarten through sixth grades. We are also working to ensure our curriculum helps students learn what they need to know for future careers, including the innovative Business INCubator program and Level Up Village, which allows our students to build a sense of cross-cultural empathy while learning skills for the future. 21st Century technology skills, such as coding, programming and internet technology are also becoming a focus across curriculum disciplines.
We are also creating entry and exit criteria for each grade level, identifying the master standards and determining what content must be taught and understood at each level.
We are aligning our report cards with New York's Next Generation Learning Standards, and identifying best grading practices
As we implement the curriculum plan, we are focusing on consistent use of research-based instructional strategies for all. Teachers are engaged in professional development that provides effective methods for meeting the needs of all learning including English language learners and students with special needs..
Our curriculum audit is in process.  Curriculum maps provide the overarching standards and components of content at each grade level.  From these maps, teachers have all the resources, links and strategies they need to create effective and powerful weekly and daily lessons.
By creating and delivering a consistent, aligned curriculum taught with researched-based methods, hand-on activities and active student engagement PreK-12,  we are working to make Liberty a great place to learn for all.
Post navigation