Special education teacher, former coach to be honored by SCSBA
Two people who have had a positive impact on Liberty Central School District will be honored next month by the Sullivan County School Boards Association.
Special education teacher Jill Weiner will be presented with an Outstanding Educator Award, and former mathematics teacher and coach Ralph Bressler will receive an Outstanding Friend to Education Award.
"Liberty Central School District could not be more proud to honor these well-deserved individuals who have dedicated their careers to making Liberty a great place to learn," Superintendent Dr. Patrick Sullivan said.
Jill Weiner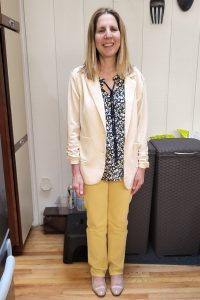 Weiner has been a special education teacher for more than 30 years—27 of them at Liberty. A special education teacher for a multi-grade self-contained class at Liberty Middle School for the past four years, she has taught at various grade levels kindergarten through eighth grade.. As a special education teacher, Weiner "strives to differentiate instruction, for all of her students to benefit, and plans learning activities to maintain motivation and engagement," Middle School Principal Heather Cheh said in her nomination letter.
In addition to academic instruction, Weiner arranges for her students to perform hands-on activities, such as running a Class Cafe. The cafe includes preparing food, serving customers and cleaning up. Further, her multi-grade self-contained class creates and hosts thematic bingo games for other students. She and her students plan virtual cooking nights, where they can meet outside of the classroom and cook together.
Community service is also a theme in her classroom. Students help in preparing "snack packs" for the Liberty Middle School, create holiday gifts for the homeless, design games and signs for community events, as well as make holiday cards for veterans.
As an advocate for individuals with special needs, Weiner consistently offers support to the parents of her students, and when applicable, provides resources to help them receive services outside of the school for their children.
Ralph Bressler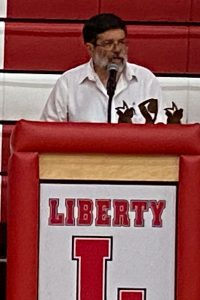 Bressler taught mathematics in Liberty for more than 30 years and was a coach for just as long. He retired teaching before he retired coaching, ending his coaching career in the spring.
"I could just as well be writing this recommendation for Mr. Bressler to receive the outstanding educator award if he were still formally teaching," High School Principal Derek Adams said in his nomination letter.. "He has never detached himself from the art and science of teaching through coaching and other avenues."
His service to the district goes beyond the classroom and coaching. He serves as the scorekeeper and national anthem singer for Liberty basketball games. For years, he also served as the district's webmaster, taking special care to promote athletic programs.  A certified emergency medical technician, Bressler used his skills to provide coaches required first aid and CPR training.
Experiencing many athletic director transitions, Bressler also made sure that the person was supported, understood the history of the programs, and that students were being given opportunities through athletics. He also consistently held students accountable for their academic success while promoting their athletic endeavors.
"Mr. Bressler, as a model of lifelong learning, has challenged himself to learn something new or take on another challenge," Adams said. For example, Bressler agreed to take on a chemistry teaching position for a year and a half until a permanent hire was found, despite not having taught chemistry in several decades. He dedicated many hours refining his chemistry knowledge, searching for laboratory experiences and updating the course materials.
The awards will be presented at an Oct. 18 banquet at the Villa Roma in Callicoon.