LHS senior uses NASA opportunities to help further her goals beyond the rainbow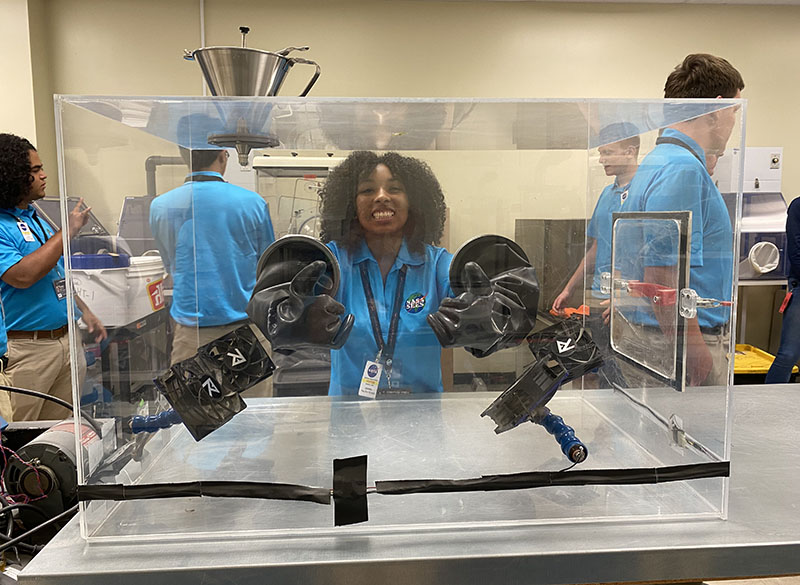 Jayla Edwards may have been singing "Somewhere over the Rainbow" this fall, but her goals go far above where any rainbow is found.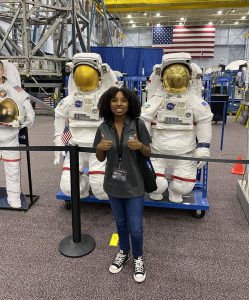 The Liberty High School senior, who played Dorothy in the Liberty Performing Arts' fall production of "The Wizard of Oz," has taken part in two highly selective experiences that are helping her pursue her career goal of being an aerospace engineer with NASA.
Edwards was one of 95 students, of more than 2,000 applicants, chosen for the NASA's Science Mission Directorate STEM Enhancement in Earth Science, or SEES, high school internship program onsite at the University of Texas at Austin's Center for Space Research.
"It was great getting to meet a bunch of people from all around the country with similar interests to mine," she said.
Her experience there led to an even more exclusive opportunity. She was one of 12 students, of the more than 200 total SEES interns, who were invited to the OSIRIS REx VIP reveal event at NASA Johnson Space Center in October. The selection of students was based on the program mentors' recommendations as well as the students' ability to be ambassadors for the SEES program, Edwards said.
"We are so proud of Jayla," Superintendent Dr. Patrick Sullivan said. "We are glad we are able to help her pursue her potential and support her in following her dreams."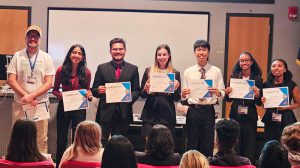 At the SEES program in July, Edwards was part of the Mars Rover Resource Utilization Team, which is similar to NASA missions she wants to be involved in during her career, she said.
The Origins, Spectral Interpretation, Resource Identification, and Security-Regolith Explorer was the first mission by the United States to collect a materials sample from an asteroid. The sample from asteroid Bennu was dropped to Earth via a parachute during a flyby of the spacecraft on Sept. 24. The samples were officially revealed to the public on Oct. 11.
Beyond being able to be present at this moment in history, Edwards was able to learn more about NASA and get a close up look at the facilities that help bring the space missions to life.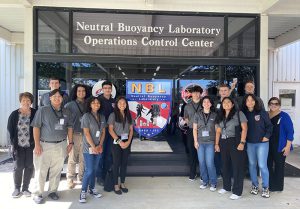 "My favorite one was the Neutral Buoyancy Lab," she said. "It was really cool to see the pool where the astronauts work and learn about some of the things that are done there."
Edwards has also been invited to present her Mars Rover project work, as well as another project she worked on at SEES, at the American Geophysical Union's annual meeting this winter.
Edwards wasn't always looking toward the skies for her career. Initially she wanted to go into neuroscience.
"I was and still am extremely interested in the brain and how it works," she said. "I wanted to do more research on the brain and neurological disorders but soon realized that anything having to do with biology was probably not for me, since I can't wrap my head around the subject.
"I chose aerospace engineering because it allowed me to explore something just as perplexing and interesting using two of my favorite subjects, math and science, without having to worry about biology," she continued. "I have also always been interested in space so when I discovered this career, it just seemed like a perfect fit."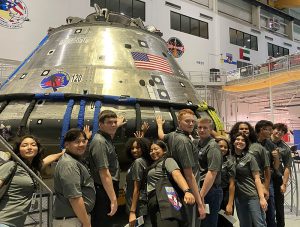 Edwards has been a Liberty student most of her life, except for two years at Fallsburg in elementary school. She said her science teachers have been great influences.
"Mr. (Eugene) Doyle helped make science a lot of fun for me and my classmates," Edwards said. "Mrs. (Lucinda) Nolan mentored Science Olympiad, and being in that club and learning and researching about different areas of science helped a lot. Science Olympiad ultimately gave me the push to apply to the SEES internship."
While her love of science extends outside of the classroom, her extracurricular life doesn't revolve around it. She is a member of the National Honor Society, the LPA and Liberty High School's Honors Chorus and Honors Orchestra.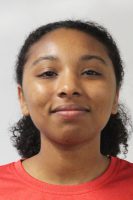 Although she doesn't yet know where she will be going to college — Rochester Institute of Technology, Rensselaer Polytechnic Institute and Embry-Riddle Aeronautical University are her favorites — her ultimate goal is to work for NASA. And while traveling to outer space would be interesting, she said, she plans to keep her feet firmly planted on the ground while helping others explore the universe over the rainbow.