Eighth graders' trip teaches about technology's impact
The eighth graders took a trip to the Hurleyville Arts Centre and Hurleyville O&W Rail Trail last month.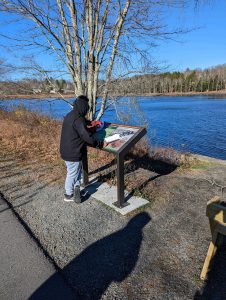 Unit 1 of the new Into Literature curriculum poses the essential question: "Does technology control our lives?" To answer this question, the class is reading a variety of texts to formulate their arguments.
As an extension of this, Hurleyville Arts Center  provided a private showing of the movie "The Social Dilemma" for the class. The movie focuses on the social and cultural impact of social media usage and the tactics used to modify behaviors as well as the psychological impacts.
To help showcase an alternative to a technology filled world, students visited the Hurleyville O&W Rail Trail walk and ride. There they had an opportunity to explore the historic rail trail and discover the natural world around them.
The students also gathered in small groups to debrief and reflect on what they had learned.
See more photos from the trip on the LCSD Facebook page. and the LCSD Instagram page