Three earn Excellence in Service Awards
Liberty Central School District awarded its first three Excellence in Service Awards earlier this month.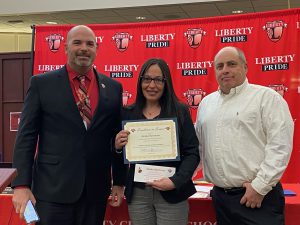 LHS senior typist Audra Santillo, LMS teacher Cathy Clifford and LES teacher Rachel Countryman were recognized at the Board of Education meeting on Jan. 10.
"Audra is always ready to answer any questions, or solve any problems. She is professional, polite, and just plain dynamite!!" her nomination read.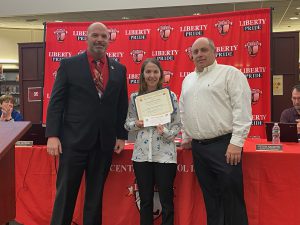 "Cathy goes above and beyond every day. Her classes are full of eager and active sixth graders," read her nomination. It went on to say many of her students are first-year ENL students. "These students are not only in need of English support, but emotional and social support as well. This is no easy task. Cathy incorporates all of this into her lessons, differentiating as needed."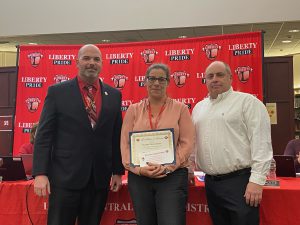 Countryman "is a grade level facilitator … and was a huge help to organize the Veteran's Day assembly," her nomination read. "Staff members see her as a person to turn to with a wide variety of questions." 
Each month, staff members nominate others they believe are going above and beyond, be it a single act of excellence or kindness or a continuous work ethic.
We congratulate these three on their awards.