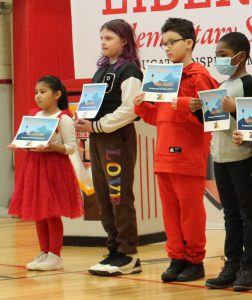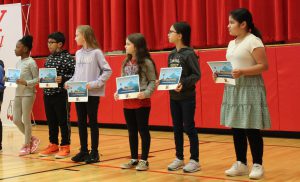 Dozens of Liberty Elementary School were honored during the monthly "Character Counts" awards ceremonies held Friday, Jan. 27, in the gymnasium. Both assemblies were livestreamed.  The third and fourth grade awards livestream can be seen here. The livestream for the ceremony for the kindergarten through second graders can be viewed here.
The awards, given to one student in each classroom and chosen by the teacher, recognized students who embodied one of the seven habits promoted by Leader in Me. January winners received the "First Place Focus" and "Task Tackler" awards. The awards, named by the students, are based on Habit 2 (Begin With the End in Mind) and Habit 3 (Put First Things First). The students focused on their Wildly Important Goals, or WIGs, in January, by setting their goals (Habit 2), and determining how they can reach them (Habit 3).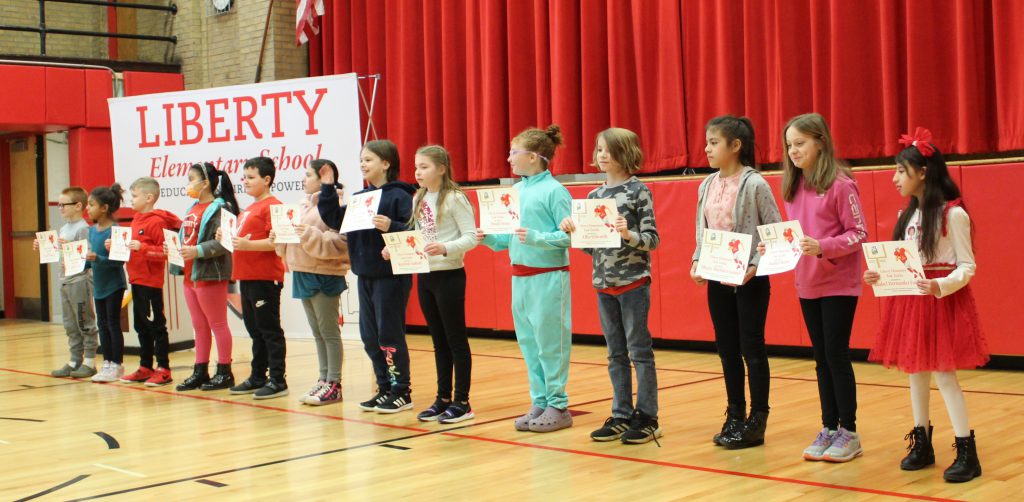 The winners of the "First Place Focus" Awards, for setting realistic goals and working to achieve them, were Allison Martinez, David Pineda Monzón, Remaissae Benadim, Elenna Farias, Yasmim Macedo Melo, Jazmin Ramirez Gonzalez, Lucas Kern, Omar Garcia Martinez Jr., Michael Garcia-Vargas, Ana Barragan Velazquez, Emilia Warren, Adriana Colocho Argueta, Grace Wang, Blake Beseth, Mackenzie Beatty, Austin Cuellar Jeronimo, Sophia Lopez Luna, Jordan White, Camden Lake, Ana Hernandez, Cailynn Pate, Willis Gamble Jr., Jamel Smith, Nyjha Miranda, Neviya Cash, Katie Lopez, Dylan Joya Reyes, Farrah Conklin-Degraw, Emma Boyles, Brenda Lucero Andrade, Riley Church-Bradley and Lilliana Garzon Ferrufino.

The "Task Tackler" winners, for working before playing and being organized and managing  their time according to their personal priorities, were Valentino Valencia Vasquez, Anastasiia Honcharenko, Rain Mott, Adah Smith Juarez, Emely Aguilera Bonilla, Juan Corona Jr., Sam Martin, Madelyn Gavidia Reyes, Jayden Reyes, Jean Valdiviesio Cajamarca, Ethan Hernandez Mejia, Mia Harrison, Leyvi Eli Banegas Cortes, Eliab Torres Garcia, Aizah Suleman, Emily Portillo, Karrah Atkins, Indigo Love, Jordana Ratner, Keily Martinez Zelaya, Joseph Wilson Jr., Lillian Keating, Nicholas McPhillips, Yarixa Reyes Cardenas, Joseph Geoghan, Savannah Gonzalez, Avery Decker, Kaydence Kalthoff, Denali Owens, Ellis Dilworth, Megan Martinez Gomez, Scarlett Ratner and Anabel Hernandez Fuentes.

Well done, students!
Post navigation