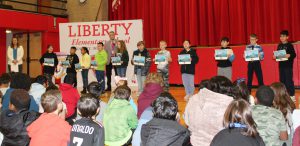 Liberty Elementary School honored dozens of students on Monday, Dec. 19, during two ceremonies in the gymnasium. Both assemblies were livestreamed. The first, for students in third and fourth grades, can be seen at https://events.locallive.tv/events/96763. The second, for students in kindergarten through second grades, can be viewed at https://events.locallive.tv/events/96764.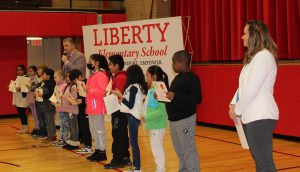 The awards, given to one student in each classroom and chosen by the teacher, recognized students who embodied one of the seven habits promoted by Leader in Me. December winners received the "First Place Focus" and "Task Tackler" awards. The awards, named by the students, are based on Habit 2 (Begin With the End in Mind) and Habit 3 (Put First Things First).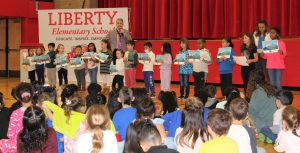 The winners of the "First Place Focus" Awards, for setting realistic goals and working to achieve them, were Nevaeh Jeronimo, Koralee Ross, Rodrigo Gonzalez Cuellar, Tori VanDunk, Josue Hernandez Soperanez, Stephany Reyes Lazo, Keira McPhillips, Amelia D'Agata, William Martin, Eli Grossman, Jayson Gomez Alegria, Hemy Gomez Lopez,  Amelia Gerwer, Zaynab Benadim, Jean Carlos De La Cruz De La Cruz, Daniel Crespo Jr., Aarit Patel, Elisa Brust, Taliyah Kennedy, Josslynn Letohic, Finley Blume, Paul Cando, Crisnelly D' Oleo Garcia, Joseph Geoghan, Ryleigh LaMantia, Mayson Ackerley, Mateusz Klys, Carolina Vera Rivera, Jonathan Contreras Martinez, Tyler Kavleski and Joseph Portillo Larios.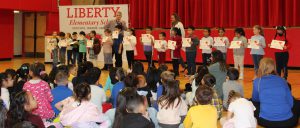 The "Task Tackler" winners, for working before playing and being organized and managing  their time according to their personal priorities, were Jackson Davis, Kaiden Putnam, Andre Ramos, Samantha Gibbons, Jairo Garcia Garcia, Jason Santay Vicente, Annabelle Andrade, Jackson Brasington, Luis Rivera Lopez, Yiling Ouyang, Yair Morales Banegas, Jeicot Maradiaga Martinez, Evelyn Segovia Ramon, Kevin Valencia Bamac, Emmy Galeas Aguilar, Jasmine Williamson, Romina Morales Romero, Elizabeth Klein, Keily Martinez Zelaya, Mirey'ah Steele, Camila Navarrete, Chase Blume, Jose Maradiaga Palma, Savannah Jones, Damaris Jadan Pangolo, Ronal Dubon Duque, Ely Garcia Garcia, Leandro Leon, Marjorie Tejada Servellon, Elisa Barragan and Paul Odior II.
Well done, students!
Dear Liberty family,
As you may be aware, the New York State Education Department recently mandated that schools stop using Native American mascots, logos and imagery or risk losing state aid and school officers.
Following a state Supreme Court ruling, SED has determined that Liberty and the dozens of schools across the state who use Indian mascots and imagery are in violation of The Dignity for All Students Act.
DASA prohibits "the creation of a hostile environment … that … reasonably causes or would reasonably be expected to cause … emotional harm to a student," a condition that could be created through the use of Native American mascots, SED said.
For more than 20 years, districts have been encouraged to move away from use of these symbols, but many continued to use the Indian mascot, believing that it is meant to honor the native tribes.
"Arguments that community members support the use of such imagery or that it is 'respectful' to Native Americans are no longer tenable," SED said in its mandate.
We here at Liberty have been "The Indians" for nearly 75 years. Many of our students, staff and alumni are proud to be the Liberty Indians. And while we do take pride in the accomplishments we have had as Indians, it is now time to find a different mascot.
We soon will begin discussions on what that mascot will be.
The state Board of Regents, which supervises school districts, is expected to issue further guidance in the coming months.
While we do not yet have a plan on how the changeover will take place, we do know in the coming months we will seek input from all sectors of the Liberty school community.
We know this is going to be a big change for our school community. We hope everyone will offer constructive feedback to help make Liberty a great place to learn for all.
Sincerely,
Dr. Patrick Sullivan
Superintendent of Schools
The eighth graders took a trip to the Hurleyville Arts Centre and Hurleyville O&W Rail Trail last month.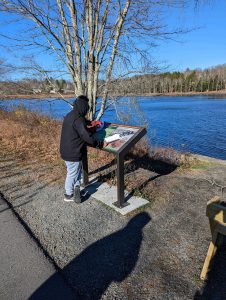 Unit 1 of the new Into Literature curriculum poses the essential question: "Does technology control our lives?" To answer this question, the class is reading a variety of texts to formulate their arguments.
As an extension of this, Hurleyville Arts Center  provided a private showing of the movie "The Social Dilemma" for the class. The movie focuses on the social and cultural impact of social media usage and the tactics used to modify behaviors as well as the psychological impacts.
To help showcase an alternative to a technology filled world, students visited the Hurleyville O&W Rail Trail walk and ride. There they had an opportunity to explore the historic rail trail and discover the natural world around them.
The students also gathered in small groups to debrief and reflect on what they had learned.
See more photos from the trip on the LCSD Facebook page. and the LCSD Instagram page
Post navigation