Three earn Excellence in Service recognition
Three Liberty Central School District employees were honored by the Board of Education during the Oct. 10 meeting.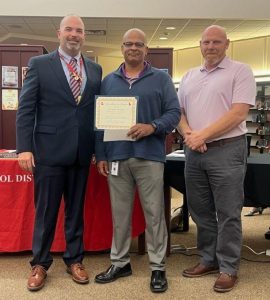 Earning Excellence in Service awards were second grade teacher Solomen Conner, high school social studies teacher Kelly O'Donnell, and maintenance/grounds crew member Jamie Black.
"From the start, Mr. Conner has always been supportive and encouraging, as a mid-hire, this was much appreciated," his nomination read. "He is a great educator and so positive and patient with his students. They truly lookup to him!
"Kelly is very knowledgeable and helpful when it comes to curriculum, NYS regulations, and changes in NYS standards," read the nomination for O'Donnell. "Also, she is always willing to share new ideas for teaching students in a way that is engaging and effective. She really can teach an old dog new tricks!"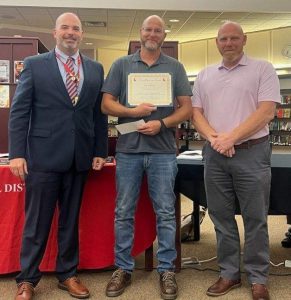 While showing appreciation for all maintenance and grounds crew members, a nominator highlighted Black for going above and beyond. "I cannot count the amount of times a delivery has arrived that Jamie has NOT helped without asking," the nomination said. "Every morning he pokes his head into the kitchen to say good morning and to offer up assistance. …. I have come to appreciate his support and friendly personality."
Each month, staff members nominate others they believe are going above and beyond, be it a single act of excellence or kindness or a continuous work ethic.
We congratulate these employees on their awards.