Liberty grad, teacher begins new role as LMS assistant principal
Liberty Middle School welcomed a familiar face as its new assistant principal on Tuesday, Oct. 11.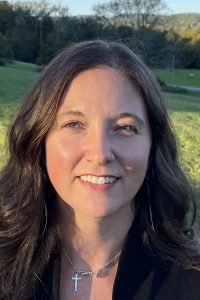 Katlyn Rusin, a 2004 graduate of Liberty Central School, has been teaching English language arts in Liberty for the past nine years, and served as the eighth grade advisor for the past four years.
"It is a great responsibility and honor to work as an administrator in this district," she said, "and I look forward to the challenges and opportunities it has to offer."
She will be assistant principal for sixth and eighth grades this year.
Rusin earned her bachelor's degree in English and a Master in the Art of Teaching from SUNY New Paltz, and a Masters in Educational Administration from Grand Canyon University.
She began her teaching career at Sullivan West, where she taught for two years.
She has been married to her husband, Nick, for three years, and they have two children. Caleb is 10 and loves to play football, basketball and baseball. Two-year-old Julianna loves running around with her older brother and eating macaroni and cheese.
"My faith is the foundation of my life and I love serving with my church community," Rusin said. "Working with others to help improve any community is something I truly enjoy. I look forward to continuing my work with our school community as we all strive to reach our full potential."