Two Liberty Central School District graduates who had huge impacts on the school and community were honored Friday, June 23, during the annual Liberty Central School District Wall of Fame ceremony that was held before graduation.
More than 80 friends and family of Joyce Eggler Teed and Daniel C. Thalmann attended the ceremony, which was moved from the high school lobby to the cafeteria because of the large number of attendees.
"The overwhelming response of those who wished to honor these two worthy alumni was impressive," said LCSD Assistant Superintendent Lynnette Brunger, who led the ceremony. "They both show the positive impact one individual can have on a community."
The Wall of Fame was established in 2011 by the Board of Education to honor extraordinary alumni. Nominees are judged on exceptional accomplishments and significant contributions within their career, community or personal life.
Danny Thalmann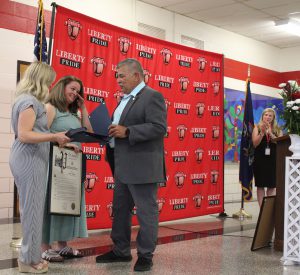 First to be honored was Danny Thalmann, who passed away last year. Thalmann graduated from Liberty in 1981, and after a stint in the U.S. Coast Guard, opened Thalmann's Service Center in 1989. His business was more than a place where vehicles were fixed, it was also a place where generosity flowed easily.
His daughters, Alyssa Thalmann and Jessica Osterhout, accepted the award on his behalf. They spoke of their father's love of Liberty and how much he loved to give back to the community.
He served in several local organizations, including the Elks and Lions. He also donated his time and money to several organizations, including Liberty Rotary Club, the Boys & Girls Club, Liberty Cub Scout Pack 717, AYSO Soccer, Little Leagues, Soap Box Derby and the Liberty Fire Department. He was named a Paul Harris Fellow Award winner for his contributions to Rotary.
Thalmann's actions during the COVID-19 pandemic also showed his commitment to Liberty. His donations helped ensure the LHS Class of 2022 was able to have prom and a senior trip since fundraising efforts were disrupted by the shutdowns. He also volunteered to bag and deliver vegetables to A Single Bite sites for two summers.
After Thalmann's daughters spoke, they were presented with proclamations from New York State Assemblywoman Aileen Gunther and Sullivan County Legislator Luis Alvarez. Alvarez spoke of Thalmann's big heart that he extended even to those he didn't know. Alvarez said that when he moved to the area, he didn't know that many people. When his car broke down, he brought it to Thalmann's garage to get fixed. He didn't have much money, and Thalmann told him to pay him back whenever he could. Alvarez said the two became friends, as their children grew up together.
Joyce Teed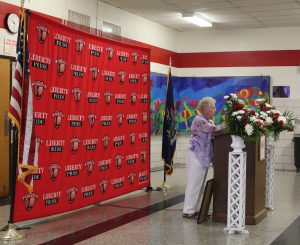 The next honoree, Joyce Teed, also recognized Thalmann's generosity and love of the community, saying she wished he was there so they could be honored together.
Teed, a 1958 graduate and longtime Liberty employee and school board member, was recognized for her contributions to the school and community. She assisted in the establishment of systems and processes that helped the school run efficiently. She was quick to learn and implement computer technology and became the go-to tech person across the district. She held many roles at Liberty from secretary to board member.
Her service to the community went beyond the school setting. She was a star athlete who saw the need to provide various opportunities for girls and young women in the community. Teed was a co-founder of a weekly girls softball team and chartered a 4-H Group. She was also involved in her community through her church as well as various municipal and community boards.
"The last two months, I've been asking myself, 'Why me?' Why me when there are so many others who are so deserving?" she said, speaking to the crowd.
The reason was evident. She followed her parents' advice.
"My parents told me to do good, help other people, try to make a difference in the world," she said.
Her mother gave her additional advice, she added: "Don't waste your life."
During the ceremony, Teed was also presented with state and county proclamations from Gunther and Alvarez that recognize her commitment to the community.
"We are honored to recognize these two stalwarts of the community," Superintendent Dr. Patrick Sullivan said. "They are truly an inspiration for the graduating Class of 2023."
Post navigation