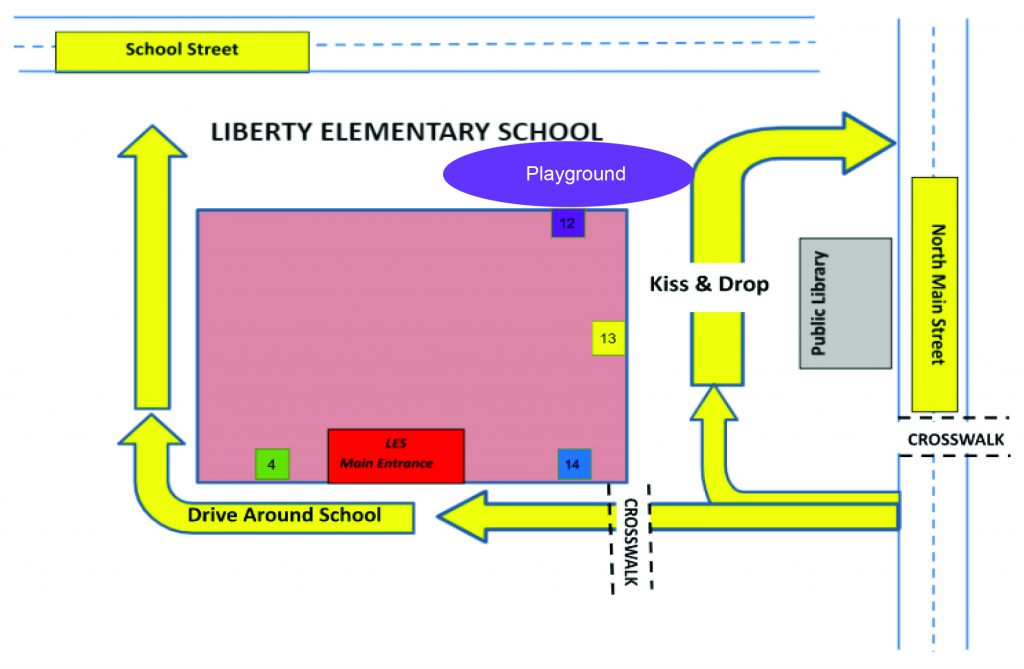 Students will be dismissed to parents at 2:40 p.m.
If you child is being picked up, the person picking them up must be on the pickup list and they must show a photo ID! No exceptions! The safety of our students is a priority!
Please remember that although students being picked up will be dismissed at 2:40 p.m., parents will not be able to drive completely around the building until the buses have left.
Parents walking their children to School Street will not be allowed to leave that way until all the buses are gone.
No student can be signed out of school after 2:20 p.m.  Parents must wait for the 2:40 p.m. dismissal after that time.
Where Do I Pick Up My Child?
POD Door; TEACHERS
Green: Bury, Fodor, Joyce, Knight, Monda/Green, Nicholson, Ritz, Williams
Red: Conner, Countryman/Rubik, DeVantier, Kratz, Kutschera-Zombo, Johnston, Poley-Gorr
Blue: Benjamin, Cohen, Gorr/Green, Itzcowitz, Shormis, Treible, VanLeuven
Yellow: Eisenberg/Smith, Hahl, Hamilton, Hess, D. Philips/Schafer, Sharrin, Stephens, Stratton
Playground: Farrand, Glickman, Houghtaling/McAllister, Kline, A. Philips, VanKeuren, Wood
When picking up students, always drive slowly and safely. Do not pass other cars.
We Love our students, parents and staff! Keep them safe.