Wall of Fame Committee announces 2022 inductee
The Liberty Central School District Wall of Fame Committee is pleased to announce Robert Bruce Travis will be the 2022 Wall of Fame honoree.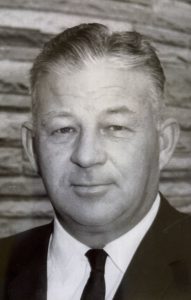 Travis, a 1932 graduate of Liberty High School, served as the Sullivan County Welfare commissioner (now known as the Social Services commissioner) for 27 years. Instrumental in adopting changes that became systems of practice in social services of Sullivan County and across the nation, he was asked to serve beyond Sullivan County as the chairman of the National Council of Local Public Welfare Administrators of the United States and Possessions of the American Public Welfare Association. 
Travis was a driving force behind the founding and construction of the Sullivan County Hospital and Infirmary in Liberty. The infirmary boasted a social services complex, which then served as a model for other institutions. He took pride in the grounds of the infirmary where flower beds provided scenery for residents to enjoy. Travis found pleasure in preparing and serving meals to the residents and took time to visit with them. 
In addition to these administrative roles, he served as a police officer in the Liberty Police Department in 1934 before enlisting in the Army in 1942.  After his honorable discharge in 1946, Travis was appointed as the constable for the town of Liberty. He supported many fraternal and service organizations in the county and volunteered often in his community.
Mr. Travis's leadership skills permeated all that he focused on and accomplished in his lifetime. He is remembered as a well respected, service oriented man whose lifelong passion for learning made a difference in the lives of many in Sullivan County and beyond.  After his death in 1977, the Sullivan County Social Services office building was dedicated as the Robert B. Travis Social Services Building.
He will be honored during the Liberty Central School District Wall of Fame ceremony in June. Planning for the invitation-only event is underway.
The Wall of Fame was established in 2011 by the Board of Education to honor extraordinary alumni. Nominees are judged on exceptional accomplishments or significant contributions within their career, community or personal life.