Two honored by Sullivan County School Boards Association
Two familiar faces at Liberty Central School District will be honored by the Sullivan County School Board Association next month.
Laurene McKenna will be honored as an Outstanding Educator, and Elementary School Resource Officer Sgt. Joseph Poppo will  receive a Friend of Education Award.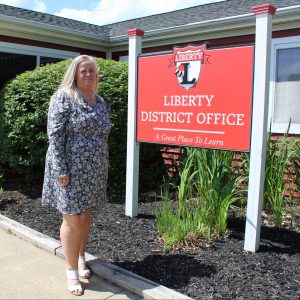 McKenna taught mathematics at Liberty High School for nearly a decade. She had previously taught in Fort Ann, Jeffersonville and Pennsylvania.
"Ms. McKenna is an outstanding educator whose dedication to our students, school, and to education is unparalleled and is only matched by her loyalty to her values and commitment to teaching," High School Principal Derek Adams wrote in nominating McKenna for the honor.  "The desire to improve her instruction, the culture and success of our high school, and the district is evidenced by her involvement in a multitude of commitments such as, self directed professional development, building leadership teacher facilitator, academic eligibility committee member, district safety committee member, and master scheduling team member"
She also has obtained her building, district and business administration certification, and now serves the district as the assistant superintendent of business at Liberty.
"The students at Liberty High School have been fortunate to have her as a teacher," Adams wrote, "and our building is a better place with her helping us all to be our best."
Poppo has been a police officer and sergeant since 2000, and has been serving the Liberty community for almost all of those years. Poppo began facilitating and supervising Liberty's DARE program in 2003, "taking every opportunity to connect with Liberty's youth to build positive and respectful relationships to deliver a message of health and wellness," according to his nomination letter.
Poppo is the department's community liaison in charge of the community policing projects such as Bike with a Cop, Coffee with a Cop and Roadside Litter Plucks for community beautification. Poppo is often called to respond to crime scenes and domestic violence situations where children are adversely affected by the traumatic event. He serves a vital role in these cases to identify and initiate the process of recovery for children and families traumatized by violence or adverse events. "His kind and caring approach, along with his trauma-informed training, puts the Liberty Police Department in a stronger position to protect and serve the children and families of Liberty every day," the letter read.
Poppo has served as the SRO at Liberty Elementary School and supervises the SROs in the middle and high school buildings since the pandemic began. While school was closed, he made many home visits. When the school reopened in September 2020, he helped children feel safe, in part, by wearing cartoon masks.
"His ability to connect with the youngest students is really something to see," the letter read.
"I am proud to have such dedicated people working in our schools who make Liberty a great place to learn," Superintendent Patrick Sullivan said.
The SCSBA annual awards dinner will be held at 5 p.m. Oct. 12 at the Villa Roma in Callicoon.