Three earn Excellence in Service Awards
Three more employees were honored by Liberty Central School District during the Tuesday, June 13, Board of Education meeting.
Earning the Excellence in Service Awards were Elementary Education Teacher Tracey Magie, Middle School Senior Typist Coleen Hare and High School Registered Nurse Megan Molusky.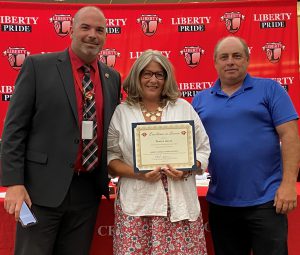 "Tracey works tirelessly with the PTA to coordinate events that promote family involvement and enrich the student's experiences," said one staff member nominating Magie for the honor. "She sets high expectations for all her students and ensures that she is doing everything she can to help them achieve these expectations."
Added another: "Tracey goes above and beyond for her students through her work with the PTA, as well as her daily teaching. She also brings valuable resources to LES through her involvement with the Sullivan County Teachers Resource Center."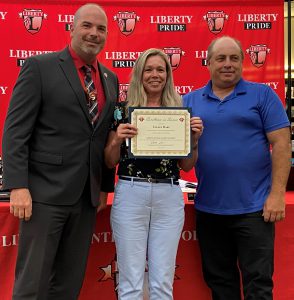 The nomination for Hare, who will retire this summer, read: "Coleen has continuously served our school community with a great sense of humor, kindness and understanding, professionalism and personability and conducts herself with poise under pressure. She has been a great asset to LMS and is greatly appreciated and will be dearly missed."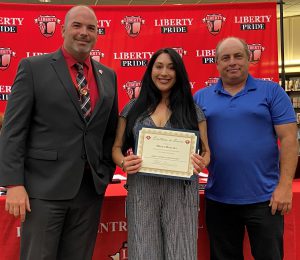 Molusky "is kind and she is patient with our students. Mrs. Molusky is empathetic as well as sympathetic to our students' needs … she speaks softly and kindly and is never dismissive of even the littlest of needs," the staff member who nominated her wrote "Mrs. Molusky will give up her lunch breaks if there is a student in need, from an emergency situation to a student who just needs her to be with them. … The students adore Mrs. Molusky and they know they are well taken care of by her. 
"We are so very lucky to have her as our High School nurse," the nomination continued, "the time and dedication she puts into this job is invaluable, and I hope we do all we can to allow her to feel valued and appreciated."
Each month, staff members nominate others they believe are going above and beyond, be it a single act of excellence or kindness or a continuous work ethic.
We congratulate these employees on their awards.