Staff earn Excellence in Service awards
Liberty Central School District continued to honor employees during Board of Education meetings the past two months by presenting Excellence in Service Awards.
LHS maintenance worker Rich Pennell, LMS teacher Melissa Murphy, LES teacher Alicia Houghtaling were awarded the honor for February; and LHS teacher Scott Hamlin, LMS teacher Melissa Diehl and LES teacher Tracy Kline earned recognition for March.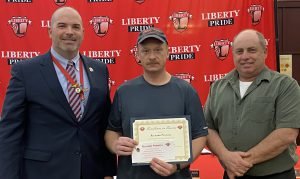 "Rich is a self motivated, hard-working and conscientious worker," Pennell's nomination read. "He not only keeps the HS in working tip top order … but he constantly is called to the other two schools to assist … . He always helps,when needed."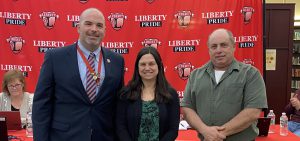 "Alicia is one of the most tenacious teachers I know. She works tirelessly to get her students whatever they need to be successful," Houghtaling's nomination read. "Alicia not only works hard in her job, but has spent countless hours working to obtain her National Board Certification. Alicia is someone that our school district should be proud to call one of our teachers."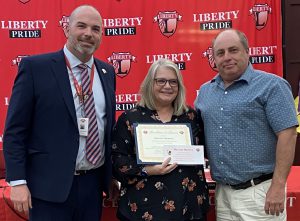 "Liberty is lucky to have such a dedicated, loyal and caring teacher," Murphy's nomination read. "Melissa shows her dedication every day. She …has consistently shown her fervor for education. In the end, Melissa puts her head, heart and soul into her work."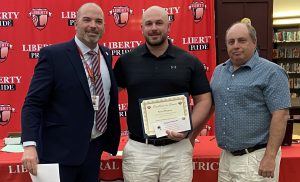 "Scott Hamlin is first and foremost loved by all of our students. He is kind, caring, fair and has wonderful relationships with them all. Mr. Hamlin is also an excellent teacher," his nomination read. "What Mr. Hamlin is doing as a teacher and the time he spends doing it is so important for our students' health and wellness, it should not go unappreciated."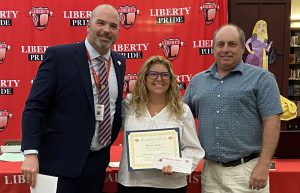 Diehl's nomination read: "Melissa goes above and beyond for both students and staff. She teaches different levels of math while also serving on various committees and our union. She's always willing to lend a helping hand."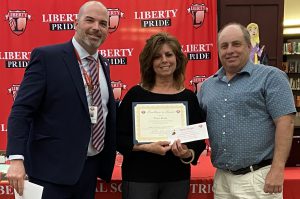 "Tracy is always going above and beyond for her students. She is taking a Spanish class after school so that she can better communicate with her students and their families," Kline's nomination read. "Tracy's calm demeanor and level of patience often means she works with many of our most challenging students"
Each month, staff members nominate others they believe are going above and beyond, be it a single act of excellence or kindness or a continuous work ethic.
We congratulate these employees  on their awards