LPD edges LCSD in first benefit basketball game
On Thursday, Nov. 10, Liberty Central School District hosted its first LCSD vs Liberty Police Department benefit basketball game, with the LPD earning a close victory.
The LCSD staff started off with a 15-0 lead but the LPD hung in there and began to chip away. The end result was a win for the LPD, 57-52.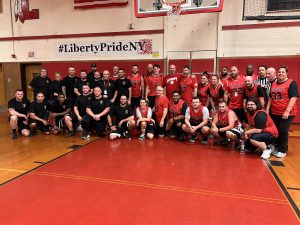 Playing for LPD were Chief D'Agata (#330), Sgt. Morse (#134), Sgt. Sauer (#115), Officer Persell (#72), Officer Jones (#66), Officer Burgio (#62), SRO Lake (#60), Detective Lowe (#58), Detective Cross (#57), Officer Ventura (#43) and Officer Williams (#14). The team was coached by Elementary SRO Sgt. Poppo (#146), with Team Managers/Cheerleaders Dispatcher Herbert (#26) and Dispatcher Kinne (#24).
On the LCSD roster were Gina Castelonia, Chris Dedonato, Beth Quatrale, Richard Feeney, Dennis James, Joe Franke, Roothland Medina, David Philips, Andrew Philips, Peter Owens, Jamie Black, Jose Bayron, Matt Robinson, Matt Stoddard, Brad Molusky, Elizabeth Hannold, Katie Chakar, Felix Colon, Derek Adams and Dr. Patrick Sullivan. The team was coached by
Stephen Matuszak and Erin Alvord.
Liberty's own High School School Resource Officer, LPD officer and Head Football Coach Adam Lake had a great part in helping Athletic Director Erin Alvord organize the event.
The game, held in the high school gym, raised more than $1,000 for the Ron Francisco Memorial Scholarship fund through the door fee, donations from the community and a donation from the LPD. The Liberty Physical Education staff awards a scholarship through the fund to seniors at the end of each school year.
The Liberty PE staff thanks Officer/Coach Lake and the LPD for a fun evening and for their generous donation. Staff also thanks Ralph Bressler for singing the national anthem, announcing and running the score board; Mike Bernstein and Edwin Rodriguez, two league officials for officiating the game; Yovanni Fields for taking pictures, Mrs. Bull, Poala Ponce and Tatiana Robelledo of our yearbook class for taking pictures; our chaperones; the Junior Class for selling refreshments; and most of all to the students and community for coming out and supporting this event.
LCSD is ready for a rematch and hopes to make the game an annual event.
Galleries of photos  and videos , courtesy of Yovanni Fields, are available online