Liberty grad joins LCSD as technology director
A Liberty High School graduate has returned to his alma mater to lead the district's Information Technology Department.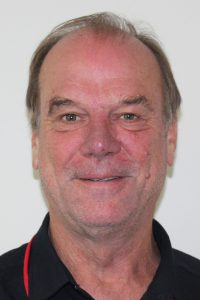 Patrick Killian began serving as LCSD's director of technology on July 1. His goal is to improve and document the physical and logical layouts of the school's network.  In addition, he plans to  enhance network security and fortify protection of student data.
Killian has been involved in communication technology his entire life, he said.
"I grew up in a family-run radio and telecommunications business and literally worked in the field as a child, doing miscellaneous tasks as well as delivering telegrams for 25 cents around the neighborhood," he said. "I have worked on just about every type of radio and telecommunications systems as they advanced through the years. Everything from installing rotary telephones to repairing very sophisticated microwave equipment, including but not limited to, building communications towers throughout the rugged Catskill Mountains."
The move from radio, telephone and cellular communication to computer and internet technology seemed inevitable, he said.
"Having worked in communications all my life, it was natural to keep expanding my knowledge into different facets of the industry," he said.
After the family business was sold, Killian continued his work in radio communications working with New York Communications NYCOMCO in Orange County, servicing communications for multiple emergency, police and correction agencies as well as Orange and Sullivan county control centers. The hours on the road were wearing, he said, so he took a job closer to home — and with less travel — with Sullivan County BOCES as a multimedia technician. That is when he decided he wanted to be a director of technology, he said.
Being in the educational realm opened other doors for Killian.
"I was asked if I would be interested in teaching Cisco CCNA (Cisco Certified Network Associate) and broadband communications, so I did," he said. "I got all my certifications and enjoyed teaching very much."
He earned his professional teaching certificate in 2014 from SUNY Oswego and went on to teach pre-tech and STEM to ninth and 10th graders to introduce them to what Sullivan BOCES Career and Technical Education had to offer.
In 2016, he began working for Orange-Ulster BOCES where he designed and taught telecommunications and copper and fiber optic based systems in the STEM Academy and later taught mechatronics and robotic engineering. At both locations he led students in numerous projects focusing on green technology, e-vehicles, and communications.
When not focusing on technology, Killian is a volunteer firefighter and is owner and operator of Pat's Ag-Venture, which includes vegetable farming, beekeeping and raising chickens for meat. It also had a specialty lumber component with a sawmill, kiln and planer. The farm is also federally licensed to produce ethanol fuel.