LES presents December Character Counts awards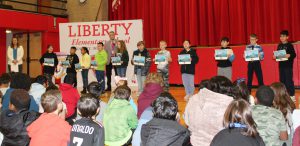 Liberty Elementary School honored dozens of students on Monday, Dec. 19, during two ceremonies in the gymnasium. Both assemblies were livestreamed. The first, for students in third and fourth grades, can be seen at https://events.locallive.tv/events/96763. The second, for students in kindergarten through second grades, can be viewed at https://events.locallive.tv/events/96764.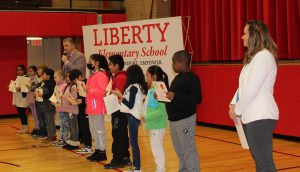 The awards, given to one student in each classroom and chosen by the teacher, recognized students who embodied one of the seven habits promoted by Leader in Me. December winners received the "First Place Focus" and "Task Tackler" awards. The awards, named by the students, are based on Habit 2 (Begin With the End in Mind) and Habit 3 (Put First Things First).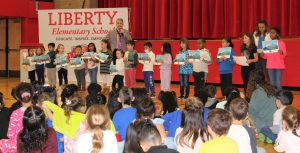 The winners of the "First Place Focus" Awards, for setting realistic goals and working to achieve them, were Nevaeh Jeronimo, Koralee Ross, Rodrigo Gonzalez Cuellar, Tori VanDunk, Josue Hernandez Soperanez, Stephany Reyes Lazo, Keira McPhillips, Amelia D'Agata, William Martin, Eli Grossman, Jayson Gomez Alegria, Hemy Gomez Lopez,  Amelia Gerwer, Zaynab Benadim, Jean Carlos De La Cruz De La Cruz, Daniel Crespo Jr., Aarit Patel, Elisa Brust, Taliyah Kennedy, Josslynn Letohic, Finley Blume, Paul Cando, Crisnelly D' Oleo Garcia, Joseph Geoghan, Ryleigh LaMantia, Mayson Ackerley, Mateusz Klys, Carolina Vera Rivera, Jonathan Contreras Martinez, Tyler Kavleski and Joseph Portillo Larios.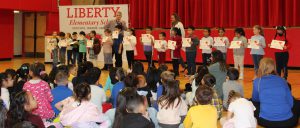 The "Task Tackler" winners, for working before playing and being organized and managing  their time according to their personal priorities, were Jackson Davis, Kaiden Putnam, Andre Ramos, Samantha Gibbons, Jairo Garcia Garcia, Jason Santay Vicente, Annabelle Andrade, Jackson Brasington, Luis Rivera Lopez, Yiling Ouyang, Yair Morales Banegas, Jeicot Maradiaga Martinez, Evelyn Segovia Ramon, Kevin Valencia Bamac, Emmy Galeas Aguilar, Jasmine Williamson, Romina Morales Romero, Elizabeth Klein, Keily Martinez Zelaya, Mirey'ah Steele, Camila Navarrete, Chase Blume, Jose Maradiaga Palma, Savannah Jones, Damaris Jadan Pangolo, Ronal Dubon Duque, Ely Garcia Garcia, Leandro Leon, Marjorie Tejada Servellon, Elisa Barragan and Paul Odior II.
Well done, students!