Forum addresses pending mascot change
About 50 people attended Tuesday's community forum on the mascot change for Liberty Central School District.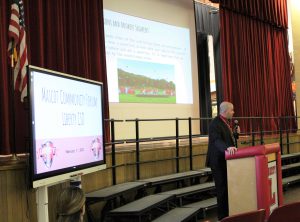 Superintendent Dr. Patrick Sullivan opened with a presentation on the history of the mascot in Liberty, why the mascot change is needed and what the district is doing moving forward. The public was invited to ask questions at the end of the presentation.
In early years, Liberty Central School District was known as the "maroon," About 75 years ago, the district changed to the Indians.
In the early 2000s, Liberty began moving away from much of the Native American imagery, after the state Education Department encouraged schools to stop using indigenous mascots and logos. That is when the red L with feathers and the Liberty shield began to be used as LCSD's school symbols.
In November, following a June ruling from the state highest court citing the Dignity for All Students Act, SED mandated that all publicly funded schools stop using Native American and indigenous mascots, logos and imagery or risk losing state funding.
With this mandate from SED, Liberty has begun to plan the change to a new mascot. If Liberty doesn't make the change, the district could lose more than $25 million in state Foundation Aid funding.
A couple people at the forum asked what the cost will be to the district to make the change. As districts are not expecting to receive any money from the state, the burden to make changes will fall on the districts. The cost to Liberty is not yet known, as much of it will depend on what the final choice of mascot will be. A large change will be replacing the imagery on the high school gymnasium floor, which could cost upwards of $50,000. Banners, uniforms and signage will be among other items that will be replaced. It is also unknown at this time if legacy items, such as sports championship banners, will need to be removed.
A proposal, awaiting final approval from the state Board of Regents, reads: "By the end of the 2022-23 school year, boards of education must commit, via resolution, to eliminating use of all Indigenous names, logos and mascots. Such resolution shall identify a plan to eliminate all use of the prohibited name, logo or mascot within a reasonable time, which shall be no later than the end of the 2024-2025 school year."
To meet that goal, Liberty is conducting an online survey to gather input on what the next mascot should be. A committee is also being formed. To be considered for the committee, email questions@libertyk12.org or call 845-292-5400, ext. 2055.